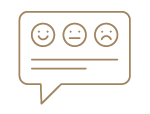 We value your feedback to help us improve our service. If you, as a Maltese or non-Maltese national wish to submit a compliment, would like to make a suggestion about how we could improve our services or have a complaint, we are here to listen. The Department of Social Security will treat your concerns as a priority, managing your complaint with integrity and fairness, and keeping you informed while working with you towards a satisfactory resolution.
What your complaint may be about
The complaints management process looks into complaints from the public about the Department of Social Security service(s). These complaints may be about:
Unreasonable delay
Inadequate service, explanation or reasons
Legal error
Factual error in decision making process
Human error
Procedural deficiency
Discriminatory action or decision
Flawed administrative process
Inadequate knowledge/training of staff
Unprofessional behavior by an officer
Breach of duty/misconduct by an officer
What we need from you
Please be clear, factual, and tell us the outcome you would like. Providing your name and contact details will help us to get in touch and help resolve the issue. If you provide feedback anonymously, we won't be able to respond to you.
How we'll respond
We aim to resolve complaints within 10 working days. If we can't resolve your complaint, we'll explain why and let you know your other options.
How to make a Suggestion, Compliment or a Complaint
If you wish to propose a suggestion, make a compliment or submit a complaint, you can use the below online form.
What can you do if you are not satisfied with the Department's response?
If you are not satisfied with the way in which your concerns have been handled, an Appeal may be lodged against a decision by the Department of Social Security before the Umpire.
How to report a suspected fraud or misconduct against the Department of Social Security
All reports of suspected fraudulent activity committed against the Department of Social Security, will be investigated. If you report suspected fraud or misconduct, your privacy and confidentiality will be respected.
Services available to assist you to make a complaint, compliment or provide feedback
If you wish to make a complaint, compliment or provide feedback and do not wish to to do so via the Internet or the Fraud Freephone you may forward it in writing to the following address:
Department of Social Security
38, Ordnance Street
Valletta VLT 1021
Or one of servizz.gov's hubs.
Languages other than English:
Maltese language